Merrow Stitches for
Emblem Edging
APPLICATIONS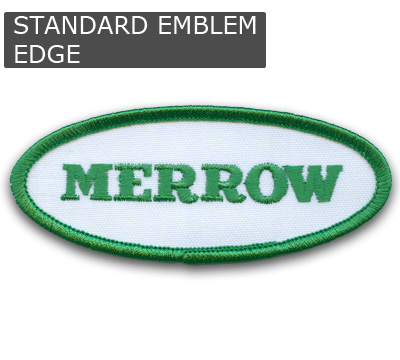 More Information

MG-3U
The standard Merrow emblem edge.
For more than 50 years the traditional affect for an emblem has been the edging with an MG-3U. The mechanics of the MG-3U are based on barrel cams rather than the pistons typical of other machines, and the result is a stitch that is uniformly and consistently applied. Because it runs at high speed, it is a staple in emblem factories and other high production environments, yet its
durability and servicability make it economical for smaller emblem and embroidery shops. The MG-3U is hand built of the highest quality parts and materials, ensuring that it will run for decades.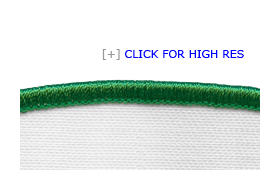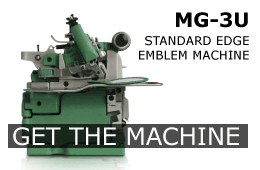 Standard Emblem Edge
The Standard Emblem Edge from Merrow is 3/16" wide and can be applied to all shapes of emblems and patches. It is noteworthy for its finish and regularity and is the standard accent for embroidered media.
SPEED: 5500 RPM
STITCH WIDTH: 3/16"
MATERIAL: Patches and Emblems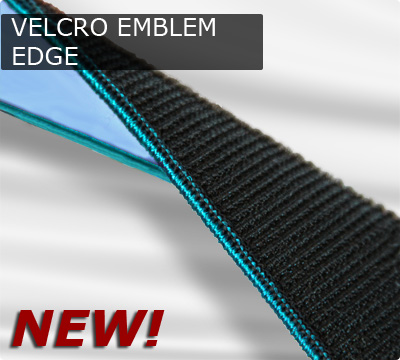 More Information

MG-3U VELCRO
Emblems with a Hook&Loop Backing now Have a NEW Merrow Edge
With the new MG-3UV, you can now add the traditional Merrow edge to removable emblems. Merrow has configured the standard MG-3U to put a clean edge on Hook&Loop insignias and emblems without taking up the hook and loop material that adheres the patch. The result - an emblem that looks great and won't come off.
The MG-3UV uses a specifically configured finger plate and tension setting when sewing, both of which can be adjusted at the Merrow factory to suit the particular shape and size of end user patches. The machine's cam-driven architecture ensures it will sew precisely with minimal maintenance, and its high quality parts and materials guarantee a lifetime of service.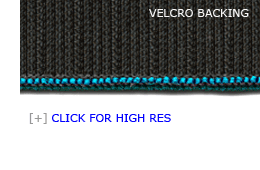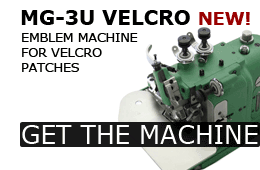 Velcro Backed Emblem Edge
The NEW Hook&Loop Emblem Edge from Merrow sews a typical 3/16" emblem edge. The stitch won't take up any of the hook&loop material on the patch backing, preserving both the beauty of the stitch and the functionality of the patch.
SPEED: 5500 RPM
STITCH WIDTH: 3/16"
MATERIAL: Hook&Loop-Backed Patches and Emblems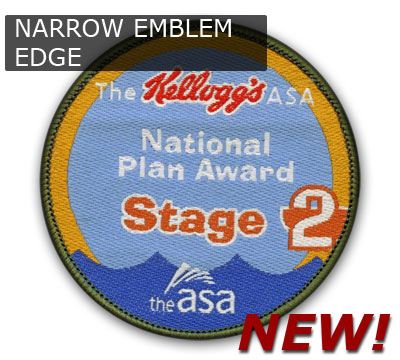 More Information

MG-3U NARROW
Narrow Emblem Edge
The Merrow MG-3U NARROW sews a perfect 1/16" edge on emblems and badges. It was specifically designed for smaller media that might be overwhelmed by a larger stitch, and the condensed work area gives operators the space required when edging even the smallest patches and labels. A smaller needle plate and presser foot contribute to the
reduced footprint and simultaneously allow the MG-3U NARROW to sew a stitch that delivers the same coverage and uniformity expected from a Merrowed edge. For a finished edge on smaller emblems, think MG-3U NARROW.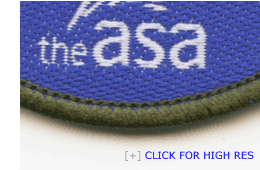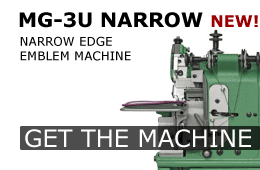 Merrow Narrow Emblem Edge
The Merrow Narrow Edge for Emblems is new for 2011. It is sewn at 5500 RPM at a standard width of 1/16".
SPEED: 5500 RPM
STITCH WIDTH: 1/16" - 3/32"
MATERIAL: Smaller Patches, Badges, Insignias
Wide Emblem Edging from Merrow
The Wide Emblem from Merrow is 3/8" wide and is sewn at 5500 RPM. It was designed in 2011 by Merrow and is wider and deeper than the standard emblem edge. The wide emblem is meant for larger patches and emblems, and for any application where more accent at the edge is desired.
SPEED: 5500 RPM
STITCH WIDTH: 3/8"
MATERIAL: Large Emblems, Patches, Insignias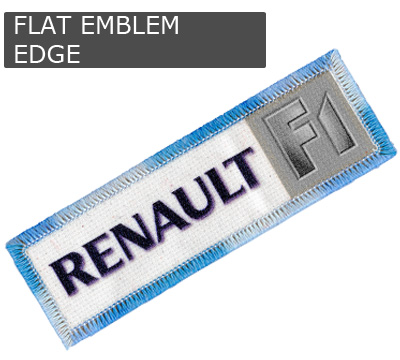 More Information

MG-2U
A Flat Emblem Stitch, Faster Than Embroidery
Flat Edging is often done on embroidery machines, which leave an edge that looks unfinished and unrefined. Enter the Merrow MG-2U. The MG-2U sews a stitch that is flat yet still provides accent and refinement to the patch or emblem. Because it is based on the same mechanics as an MG-3U it operates faster than an embroidery machine, yet because
it sews with only two threads, the edge looks flat and adds very little profile to the emblem or patch. The MG-2U is built on Merrow's cam-driven architecture, ensuring that it will sew consistently and precisely for years, if not decades.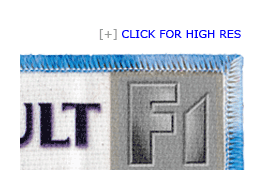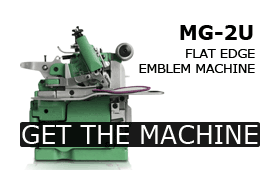 Flat Emblem Edging
Merrow's flat emblem edge is faster, looks better, and lays flatter than an edge made with an embroidery machine. The flat emblem edge is sewn with two threads at 5500 RPM and provides the same uniformity and finish as a three thread Merrow emblem edge.
SPEED: 5500 RPM
STITCH WIDTH: 3/32"
MATERIAL: Smaller Emblems and Labels