Merrow Stitches for
Lingerie
APPLICATIONS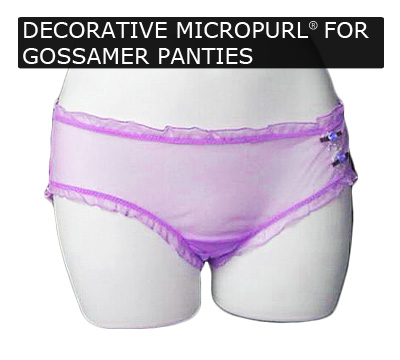 More Information

MG-2DNR-1 MICRO
Decorative MicroPurl Edging Machine
The Merrow MG-2DNR-1 MICRO sews the only stitch of its kind in the world - a 1/32" "MicroPurl" for decorating the edges of sheer and gossamer fabric. Using rubber feed dogs and a specially weighted presser foot, the MG-2DNR-1 MICRO resides squarely at the intersection of art and engineering; it pairs Merrow's cam-driven architecture
with a special rolling apparatus to produce the most delicate stitch on the finest material. No other sewing machine can match the precision of the purl sewn by the MG-2DNR-1 MICRO - it it is without exception the smallest, tightest decorative edge available, and the perfect accent to delicate lingerie and other plush garments.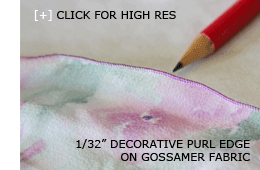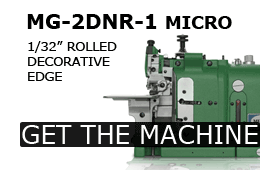 1/32" Decorative MicroPurl for Sheer and Gossamer Fabric
The Merrow MicroPurl Edge is an impossibly small stitch at only 1/32" (1mm) wide. It is a one-of-a-kind stitch that is applied to gossamer and sheer fabric and is a perfect compliment to delicate women's undergarments.
SPEED: 5500 RPM
STITCH WIDTH: 1/32"
MATERIAL: Gossamer, Sheer, Silk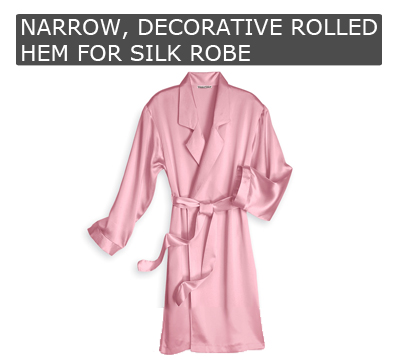 More Information

MG-3DRWL
Narrow Decorative Rolled Hemming Machine
The Merrow MG-3DRWL sews a tight and narrow rolled hem on delicate fabrics such as silk, nylon tricot, and similar sheer material. It utilizes a specially adapted needle plate and presser foot finger which fold the material down before sewing, and is usually used for ladies sleepwear and blouses because it sews a long, straight yet dainty seam.
The MG-3DWRL sews at high speed (5500 RPM), but will not pucker or curl fabric during operation, resulting in a tight straight-hanging seam. Like all Merrow MG Class sewing machines, the MG-3DRWL is engineered to sew consistently and uniformly, and will last for decades with routine maintenance.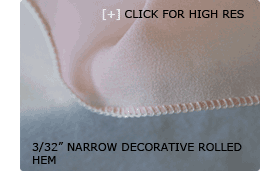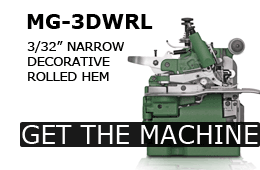 Narrow Decorative Rolled Hem
The Narrow Decorative Rolled Hem is a strong, straight, yet dainty seam that is perfect for ladies sleepwear, lingerie, and blouses. The Narrow Rolled Hem is designed to prevent puckering, curl, and thread pull back when sewing long side seams.
SPEED: 5500 RPM
STITCH WIDTH: 3/32"
MATERIAL: Gossamer, Sheer, Silk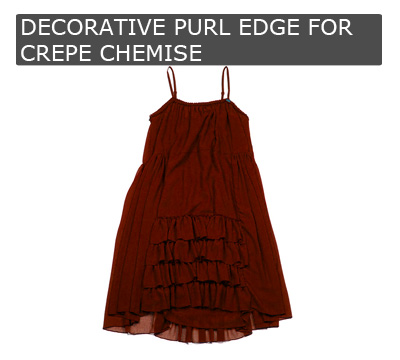 More Information

MG-2DNR-1
Decorative Purl Edging Machine
The Merrow MG-2DNR-1 rolls the edge of lightweight, delicate fabric into a 1/16" wide decorative purl. Built with Merrow cams, the MG-2DNR-1 operates smoothly and precisely to produce an extremely tight and consistent stitch. It is designed to handle delicate fabrics like those used for lingerie and other ladies garments, and uses fine-toothed feed dogs to
advance material evenly without causing tears or runs. The result is a purled edge that is as resilient as it is attractive and distinctive. For a distinguished accent on fine garments, the MG-2DNR-1 is a sewing machine in a class of its own.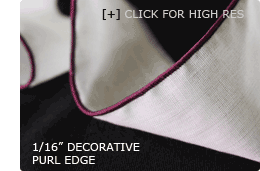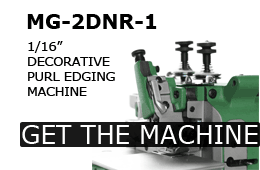 1/16" Decorative Purl Edge for Lightweight, Delicate Fabrics
At 1/16", the Merrow Decorative Purl is a tight uniform edge that is applied to delicate garments. As durable as it is beautiful, the Merrow Purl rolls the fabric into the stitch, yet is extremely narrow and dainty in appearance.
SPEED: 5500 RPM
STITCH WIDTH: 1/16"
MATERIAL: Gossamer, Sheer, Silk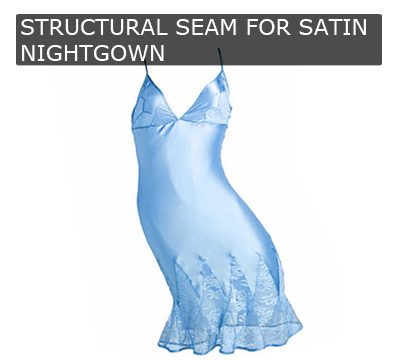 More Information

MG-3DW
Industrial Seaming and Hemming Machine
The Merrow MG-3DW sews a tight needle stich on delicate fabrics using a three-thread, double row, differential feed set up. It is especially suited for handling sheer and gossamer fabric, making it ideal for structural applications on ladies' lingerie. The MG-3DW stitch is uniform and tight, meaning it will not detract from the daintiness of the garment being sewn; in fact, when used as a hem the
stitch can be used to provide accent. Varying the color of one of the three thread adds further accent. The MG-3DW operates at 5500 RPM and uses Merrow's cam-driven architecture to sew smoothly and quietly, and will run for decades with routine care.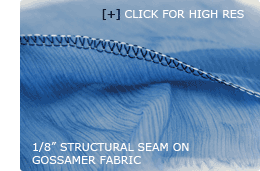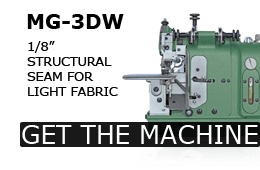 1/8" Structural Seam for Lightweight, Delicate Fabrics
Merrow's structural seam for sheer and gossamer fabric is a functional yet aesthetic application that is primarily used on delicate garments such as lingerie. It is a tight three-thread stitch that can provide accent when used as a seam or a hem.
SPEED: 5500 RPM
STITCH WIDTH: 1/8"
MATERIAL: Gossamer, Sheer, Silk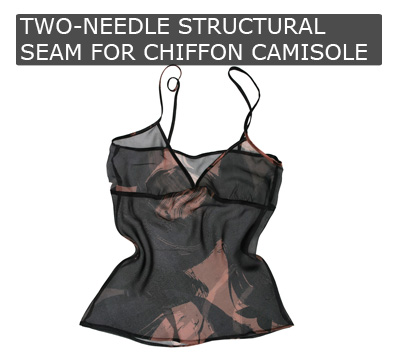 More Information

MG-4D-45
Industrial Two-Needle Seaming Machine
The Merrow MG-4D-45 for lingerie has been set up to sew a 3/16" three-thread seam on very delicate material. The MG-4D-45 uses two needles to add extra strength to the stitch, which is elastic and will give with temperamental fabric due to the interlocking relationship of the needle threads. The machine also uses expertly engineered tension control to allow the
operator to sew fine threads without worrying about breakage. Like all Merrow sewing machines, the MG-4D-45 is built on cam-driven architecture which ensures lasting operation and uniform, consistent stitch production.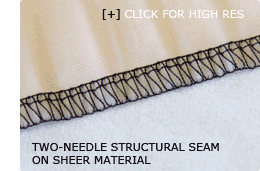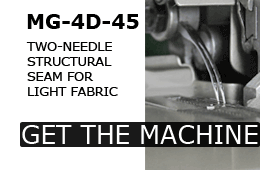 Two-Needle Structural Seam for Delicate Fabric
The Merrow Two-Needle Seam provides double protection through an additional needle thread, and the interlocked relationship of the stitching allows the seam to give with soft garments.
SPEED: 5500 RPM
STITCH WIDTH: 3/16"
MATERIAL: Sheer, Gossamer