Merrow Stitches for
Women's Garments
APPLICATIONS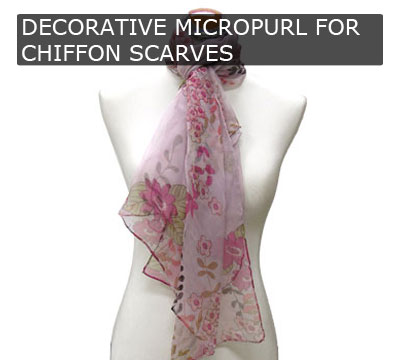 More Information

MG-2DNR-1 MICRO
Decorative MicroPurl Edging Machine
The Merrow MG-2DNR-1 MICRO sews the only stitch of its kind in the world - a 1/32" "MicroPurl" for decorating the edges of sheer and gossamer fabric. Using rubber feed dogs and a specially weighted presser foot, the MG-2DNR-1 MICRO resides squarely at the intersection of art and engineering; it pairs Merrow's cam-driven architecture
with a special rolling apparatus to produce the most delicate stitch on the finest material. No other sewing machine can match the precision of the purl sewn by the MG-2DNR-1 MICRO - it it is without exception the smallest, tightest decorative edge available, and the perfect accent to delicate lingerie and other plush garments.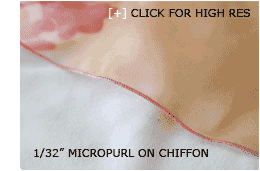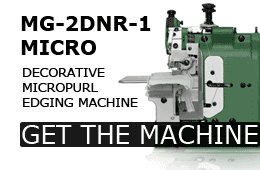 1/32" Decorative Micropurl for Sheer and Gossamer Fabric
The Merrow MicroPurl Edge is an impossibly small stitch at only 1/32" (1mm) wide. It is a one-of-a-kind stitch that is applied to gossamer and sheer fabric and is a perfect compliment to delicate women's garments.
SPEED: 5500 RPM
STITCH WIDTH: 1/32"
MATERIAL: Chiffon, Organza, Tulle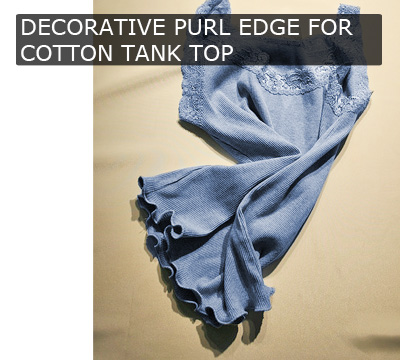 More Information

MG-2DNR-1
Decorative Purl Edging Machine
The Merrow MG-2DNR-1 rolls the edge of fabric into a beautiful decorative purl. Built with Merrow cams, the MG-2DNR-1 operates smoothly and precisely to produce an extremely tight and consistent stitch. It is designed to handle delicate fabrics like those used for lingerie and other ladies garments, and uses fine-toothed feed dogs to
advance material evenly without causing tears or runs. The result is a purled edge that is as resilient as it is attractive and distinctive. For a distinguished accent on fine garments, the MG-2DNR-1 is a sewing machine in a class of its own.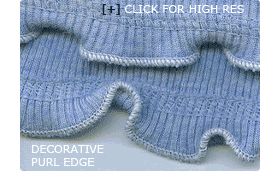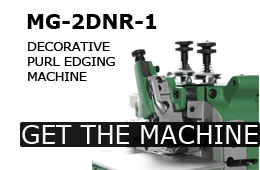 Decorative Purl Edge for Lightweight, Delicate Fabrics
The Merrow Decorative Purl is a tight uniform edge that is applied to delicate garments. As durable as it is beautiful, the Merrow Purl rolls the fabric into the stitch, yet is extremely narrow and dainty in appearance.
SPEED: 5500 RPM
STITCH WIDTH: 1/16"
MATERIAL: Cotton, Wovens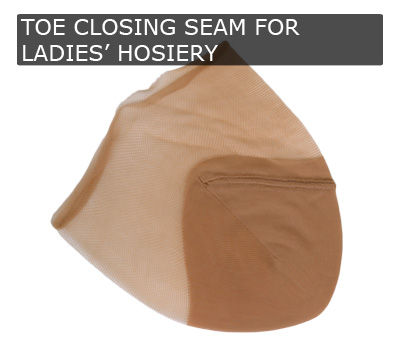 More Information

MG-4D-45
Low Profile Toe Closing Sewing Machine
The Merrow MG-4D-45 was developed in close cooperation with the hosiery industry in response to the desire to eliminate costly looping in quality hose. The resulting seam is strong, neat, and comfortable to the wearer and of higher quality than other seams. The stitch itself is a high count dense stitch that holds up to wear and will not pucker or
lift. As a panel seam for lingerie or for toe closing, it is a very low profile stitch. This makes it suitable for very delicate applications. The MG-4D-45 sews a mock-safety stitch at 5500 RPM with two needles, and the wide array of available needle plates and presser feet allow customers a great degree of flexibility adjusting the machine to their materials.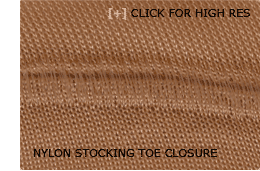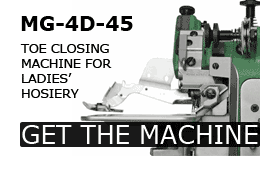 Low Profile Toe Closing Seam for Ladies' Hosiery
Merrow's Toe Closing Seam for ladies' hosiery is made with two needles and three threads and consists of 70-100 stitches per inch. It conforms to all licensing requirements for manufacturing GeTaZ Gusset Panel Loopless Toe Stockings.
SPEED: 5500 RPM
STITCH WIDTH: 3/16"
MATERIAL: Cotton, Nylon, Stretch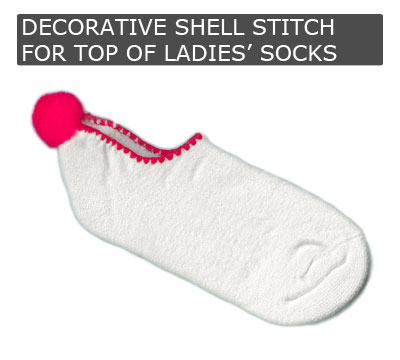 More Information

MG-3Q-3
High Speed Shell Stitch Sewing Machine
The Merrow MG-3Q-3 sews a beautiful 3/16" decorative shell at high speed on multiple materials. Each shell produced on the MG-3Q-3 has a remarkable six "prongs" and each joins seamlessly with the ones adjacent for an overall beautiful effect - an effect that can be further enhanced by varying the color of any one of its three threads.
The MG-3Q-3 sews with loopers rather than latch hooks because loopers are faster and more reliable. The advanced feed mechanism is calibrated precisely with the looper and needle throw, all of which are driven by Merrow's proprietary cams. Cams allow for adjustment to the .001 inch, and tight tolerances are required for tight, beautiful shells.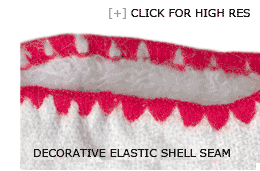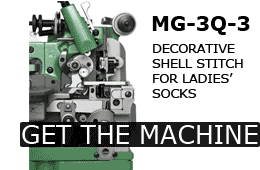 Decorative Shell Stitch for the Top of Women's Socks
The Merrow Shell Stitch is a beautiful decorative edge that compliments a wide range of ladies' garments. Because of the versatility of the stitch, the Merrow Shell is used as a decorative seam on the top of women's socks.
SPEED: 5500 RPM
STITCH WIDTH: 3/16"
MATERIAL: Cotton, Nylon, Stretch